Meet Ella, owner of Bee Zero where she talks about the importance of making small changes to our lifestyle and how these changes can make a big difference to our environment and future. With suggestions of eco-friendly staple swaps that you can start doing today, read on to hear some of Ella's zero waste tips and learn about her experiences that inspired her to start her journey. With plenty of experience and knowledge having now opened two zero waste shops, pop in to Bee Zero where you will find Ella ready for a chat to give you plenty of advice on products and the refill system. You can even get your hands on some freshly baked pastries and bread!
With the community and customers in mind, Ella is always willing to source new products and organise workshops that suit the town so she would love to hear from you! In the words of Anne-Marie Bonneau, 'We don't need a handful of people doing zero waste perfectly. We need millions of people doing it imperfectly'.
You're fairly new to Wallingford so some people may not have heard of you yet, please say a little about yourself and the business, for example where are you from, how and when did you start the business?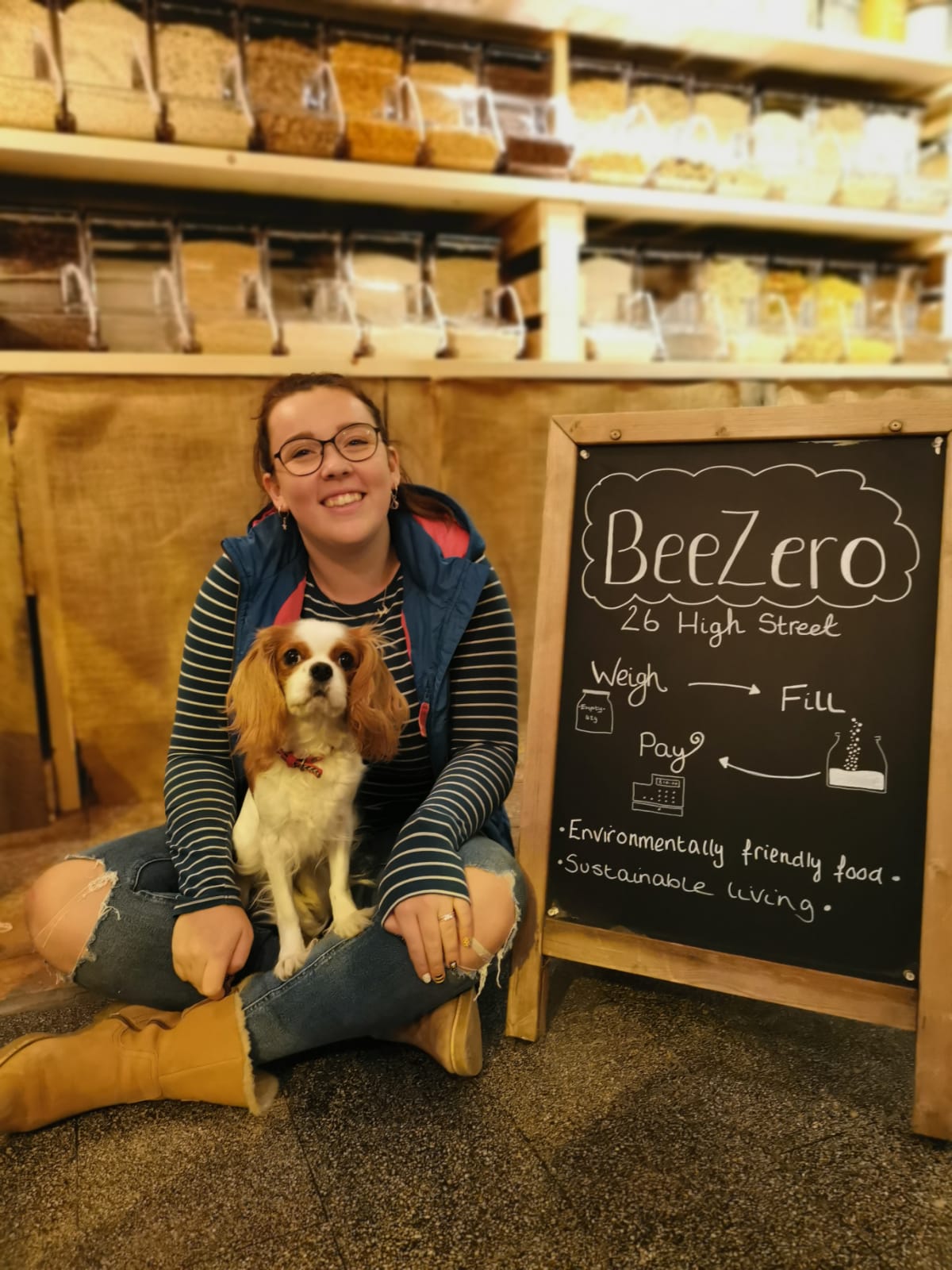 Hi! I'm Ella and I own Bee Zero on the High Street in Wallingford. Bee Zero opened in November 2020 after a very successful 11 months in our first shop, Sea Change Zero Waste in Kingston Bagpuize. From a young age I have had a passion for sailing and anything marine related.  My family are from the Isle of Wight originally, so I spent a lot of time either on or by the sea as a child and despite living about as far inland as it's possible to be I yearned to be by the coast.  In the summer holidays when I was 9 I did a beginners windsurfing course which was great fun and gave me the opportunity to be on the water even when I couldn't be by the coast.  At 18 the need to be by the sea was just so great that I decided to move abroad to teach watersports and spent a year working in Spain and Greece.  I had always been aware of the issues surrounding plastic pollution and climate change but like many people, it was something that I would see on Facebook and the TV.  I guess you could say I was aware of it but because it wasn't right in front of my eyes it was like it wasn't quite real. This all changed when I was living in Greece and the extent of the plastic pollution was nothing short of shocking.  At the end of the season I packed my bags, got on a plane to come home and decided I wanted to live a more sustainable lifestyle. And this is where I discovered the first problem, there were no zero waste shops near where I lived.
I knew that if I wanted to shop zero waste then surely others did too and that's when I decided to make this possible for my family and for others. Since December 2019, Sea Change has taken off and by February 2020 we were ready to look at shop number 2 as we were already outgrowing the space. After months of hold ups due to the pandemic, November came around and we were finally able to open!
What do you love about running Bee Zero?
Wow, where to start with that question!  There are so many things I love about running Bee Zero.  It's a great feeling being able to introduce people to a new way of shopping.  Well I say new, it's not a million miles away from how things used to be before supermarkets took the place of butchers, fishmongers and greengrocers on our high streets.  I love chatting to customers about our products and sharing the backgrounds of the small businesses that we support.  It's really important to me that we know our products and their supply chain.  We only stock what we believe in and everything is trialed by our dedicated team who are always very keen to sample new stock so I'd be lying if I said this bit wasn't a great part of my job!  Talking to customers often results in giggles as we all share the ups and downs of our various eco journeys.  It's incredibly rewarding just knowing that I'm doing my bit to care for the environment and facilitating others to be able to do their bit too.  It's a joy when people realize that they can make a difference!   
It's great what you do, what inspired you to be interested in being eco-friendly?
As I mentioned earlier, it was something that I had always been aware of and I felt I was doing my bit by using bags for life and avoiding takeaway coffee cups etc. But it wasn't until I was living in Spain and then Greece that the severity of the situation really hit home.  I was working in resorts where all the residents were provided with 500ml bottles of water free of charge and encouraged to drink lots particularly when participating in watersports or kids clubs.  The sight of the beaches at the end of the day and the bottles bobbing around in the sea was just so shocking.  I started to research different countries approaches to recycling and was surprised to find how many were expected to fall short of their municipal waste recycling targets.  It struck me just how much easier it is to recycle at home and there are so many ways that we can cut our plastic usage by rethinking our choices.   What I have come to realize through my journey is that it's not about setting yourself unachievable goals of being 100% zero waste and then giving up when you fall short of your own expectations.  We are living in a society that places high value on speed and convenience so when we are conscious of our choices and begin to change what we buy and how we buy it, it really is amazing how much of a difference you can make.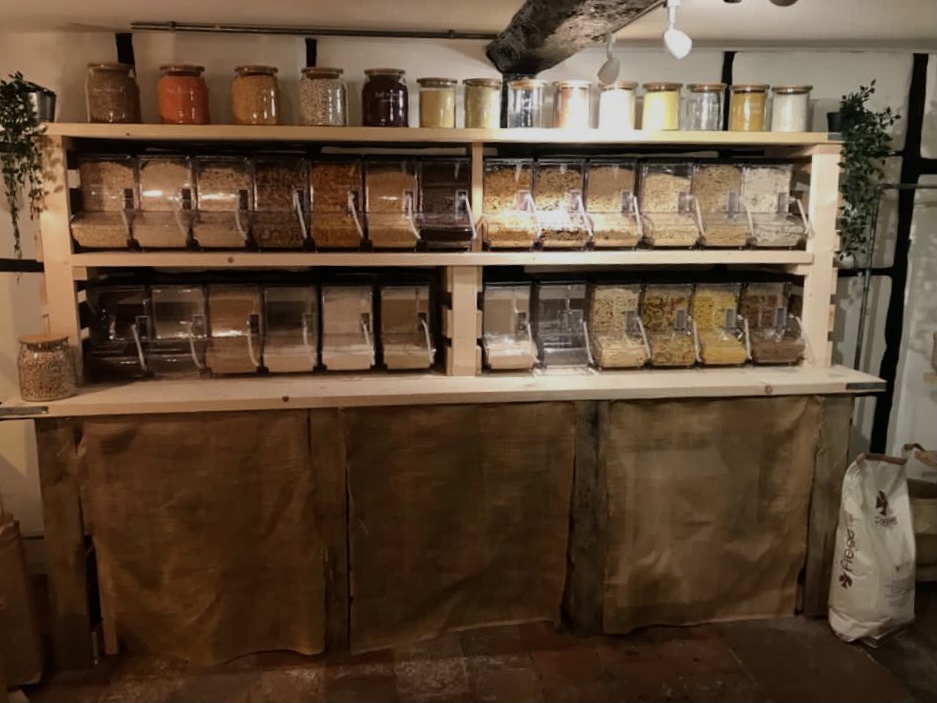 What have you learned during your zero waste journey?
The biggest thing I have learned during my journey is to not believe the videos you see on social media. I'm talking about the "I can fit my weeks waste into a jam jar" or "Day in my life living completely zero waste".   Now these may be things to aspire to but in the fast-paced world we live in it is just not realistic for the majority of us. I'm a strong believer in Anne Marie Bonneau's quote "We don't need a handful of people doing zero waste perfectly, we need millions of people doing it imperfectly".  Realistically we can't cut out waste altogether but that doesn't mean you can't reduce your waste.  Just refilling pasta, changing to a bamboo toothbrush or refilling your laundry liquid makes a huge difference.
Imagine if everyone changed at least one thing, we would already be heading in the right direction. In our first month customers refilled 1,623 containers and bought over 600 eco alternatives!  
Do you think big brands and the government do enough to support a zero waste future?
The short answer is no, no I don't think so. The government obviously has a significant role to play in bringing about long term change but let's not underestimate the power of the people.  It is great to see more and more zero waste shops popping up around the UK making this way of shopping more accessible to more people.   The big brands will remain in demand due to their reputation but it would be nice to think they might take steps to rethink how they work. It is pleasing to see that some are already taking steps to rethink how they do things for example we are now able to get Kellogg's Cereal in bulk. These come in 3.5kg bags which as I'm sure you can imagine are huge! l think if the big brands started supplying their products in more sustainable packaging or making their products available to refill shops, this would make a big difference.  
What are your best-selling products?
It varies but some of our best-selling non-food items are our seeded cards, reusable makeup remover pads, Who Gives a Crap toilet rolls and our Safix scrub pads. Best-selling food items are our local eggs, white basmati rice, dark chocolate brazils (which are sooooo good and we now have milk chocolate coated brazils too which are almost as popular!) and oats. Our customers also love our vegan sweeties, chocolate honeycomb and honey cashews!  I can't miss off our Brownie Jars! If you've shopped with us before you will probably know about these but for those who don't they are jars with brownie mix that you simply add all the ingredients to a bowl, add eggs and butter and bake. They sell as quickly as we can make them and you can bring the jar back for a discount on your next jar. What's even better, they look super pretty on display!
Do you offer an online delivery/click and collect service?
We do yes! We offer a click and collect service and free local delivery to Wallingford. We also deliver to surrounding villages for a small fee. Orders can be placed by online at www.beezero.co.uk. For online orders, food items will be packaged in compostable paper bags but we ask you to bring your containers with you for liquid refills. 
Has it been a positive experience for you so far having a shop here in Wallingford and what have you enjoyed the most about it?
It has been an amazing experience so far having our Wallingford shop. I have loved meeting people and being able to provide a new opportunity for the community. We have lots of regulars now too and it's so lovely to be developing such positive relationships.  The feedback we have received is incredible and I'm really excited about the plans we have for when restrictions are eased. One of my main beliefs with what I do is that I provide a place for the community to decide what they need and want. The reason I do this is to provide the community with an opportunity to shop sustainably so for us to be able to do that we need to know from you want you would like us to stock and we will do our best to find the things you didn't realize weren't sustainable! We are @beezerowallingford on Facebook and Instagram so please give us a follow to keep up with news and updates and to get in touch! 
What advice would you give to someone starting up a small business? Is there anything you know now that you wished you knew when starting out?
I wish the '18 months ago me' believed that it was ok to make mistakes and to grow from them!  I've been incredibly fortunate to find a business mentor who is fantastic and supports me with the business growth. His guidance is invaluable and I only wish I'd known how reassuring as well as beneficial it would be to have a business mentor when I first started out.  I expected myself to have all the answers and initially gave myself a really hard time when I felt stuck with how to move forward with the business.  I've since come to learn that it's ok to ask for help from people who have knowledge and expertise in different areas, it is certainly not a sign of weakness or lack of ability like I thought it was. If I could give one bit of advice to someone wanting to start a small business is to go for it! Yes it is hard work, yes it is stressful, yes it is tiring but it is the most rewarding thing you will ever do. Be prepared though to make sure you have a support system around you to help with those things you might not know.   
Have you faced any struggles in the past few months for your business in terms of the pandemic?
It definitely hasn't been the first 12 months that I was expecting!  That said we feel very fortunate to be an essential business which has allowed us to remain open throughout the pandemic.  Our greatest challenge but something we have discovered we are very good at is being adaptable!  We've had to make lots of changes to the way we work since our opening and we have met these challenges head on.  Our focus is always on how best we are able to meet the needs of our customers and provide them with a way of shopping sustainably as well as safely.   Many people have commented that one of the positive outcomes of the last year is that they feel they have been able to rethink their lifestyle and for some this means they've decided  to come in, have a chat, see what it's all about and take some time to make some changes. In a way I think the lockdown's have given people the time they may have needed despite the awful circumstances. 
It's so quick and easy to buy something online using a large company but what does it mean to you when someone supports your shop and buys something from you?
It means the absolute world to us! Every time we receive an order or you buy something in store we do a little happy dance!  True story!   To know that we are supported and appreciated is such an amazing feeling and will allow us to provide more and more for the community. 
What tips do you have for people starting their journey on becoming more ecofriendly? Can you give some advice on some simple steps we can take to make a big difference?  
I think my biggest tip would be to start small. Don't set out one day saying that's it, no more waste because it's likely you won't be able to do that and once it doesn't work out you will feel like you've failed and that it's not doable. It is possible but take small steps. Start by changing to a bamboo toothbrush, picking 3 cupboard staples that you will refill, swap to an eco-friendly deodorant. Don't overwhelm yourself, it's a process and you can do it!  And if you're not sure what to do then just ask us in the shop.  We're always very happy to chat to you about what might fit with your lifestyle and point you in the direction of some sustainable swaps.  
What can Wallingford do as a community to help you during this time?  Word of mouth is crucial! We would love to increase our following on Facebook and Instagram so that we can let you know when we have new items in stock and can engage with the community. We want to know what you would like to be able to refill, what advice you would like, if you would like us to host workshops etc but we need the input from the community for us to work those things out. Please do spread the word, like our socials and give the pages a share.  And of course come in and say Hi otherwise we get lonely!